2nd Shift Sewer & Plumbing® is the leading provider of plumbing services in Howard County and the surrounding areas. With more than 30 years of experience, their knowledgeable and licensed technicians have the expertise to fix any plumbing or sewer problem you may have.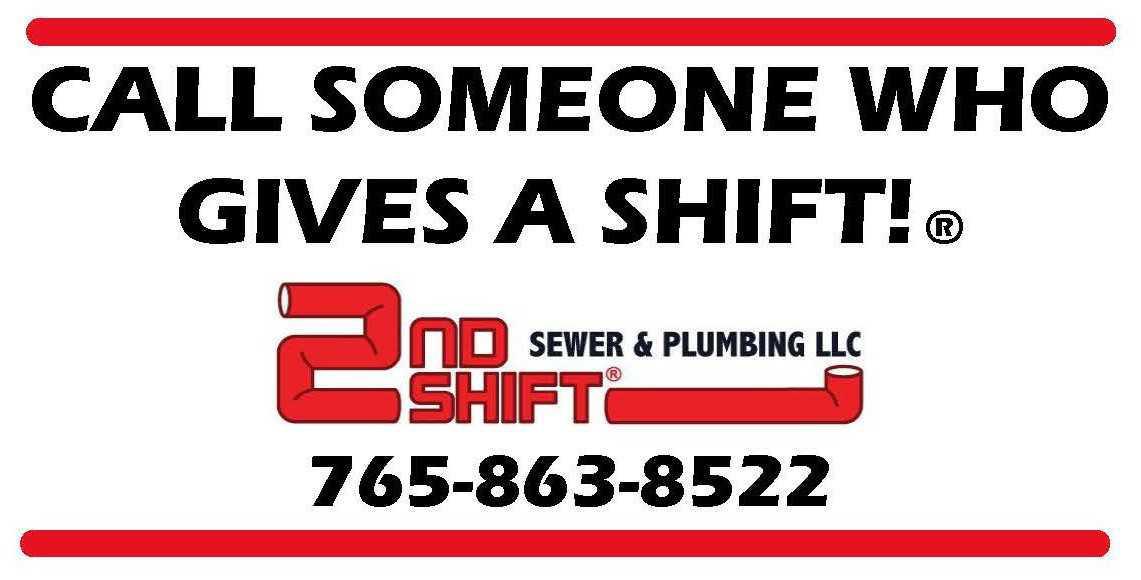 Homelessness and hunger are two things no one wants to experience, but for a few hundred Howard County residents, they are a reality. But Coordinated Assistance Ministries (CAM) is doing what it can to lift them out of their tragic circumstances and restore their lives.
To that end, CAM will recognize Homelessness and Hunger Week, Nov. 13-17. Each day, a runner will complete a 5k in recognition of different groups suffering from the afflictions. The hope, according to CAM executive director Dennine Smith, is that people will be more cognizant of the homeless population and will aid CAM in its mission.
"This year, we are doing things a little bit differently," said Smith of the annual event. "Mayor Tyler Moore is going to join us on Mon., Nov. 13. He'll do a proclamation, and then he will run the first 5k of the week. He will be running in honor of families experiencing homelessness."
Smith is hopeful the community will turn out for the kickoff, enjoy some coffee and donuts, and be a part of the recognition week. CAM's new offices will be open for tours, including the newly upgraded kitchen.
"We just want them to come, especially if they haven't had an opportunity to tour the facility," said Smith. "For those who haven't been to the new facility, this will be an opportunity for them to see some of the things that we've been working on."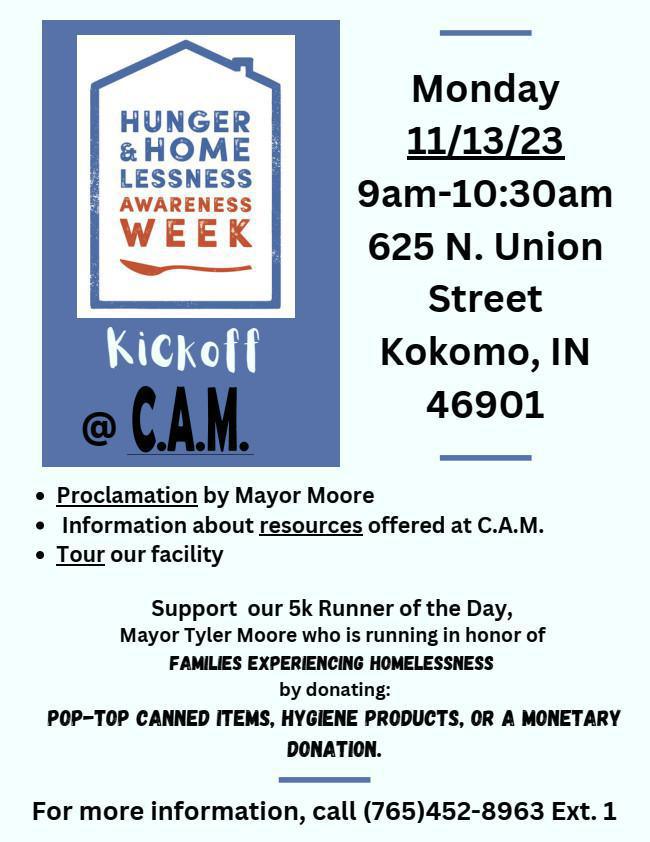 In addition to the kitchen upgrades which make it accessible to CAM clients, the organization also has made improvements to some of the other rooms in the facility, with an eye toward adding bunks for residential guests.
"That's something we'll be talking about with the community," said Smith. "But the big thing that we really want to emphasize is that there is a great need among the homeless in our community to have support and opportunities to make some changes in life. And I think overall, in our community, we do a pretty good job of offering services. But there's always more to do.
"That's what Hunger and Homelessness Awareness Week is about. It's about engaging the community, helping them to understand some of the details of what some of the causes and factors affecting homelessness are and what we can do to make a difference."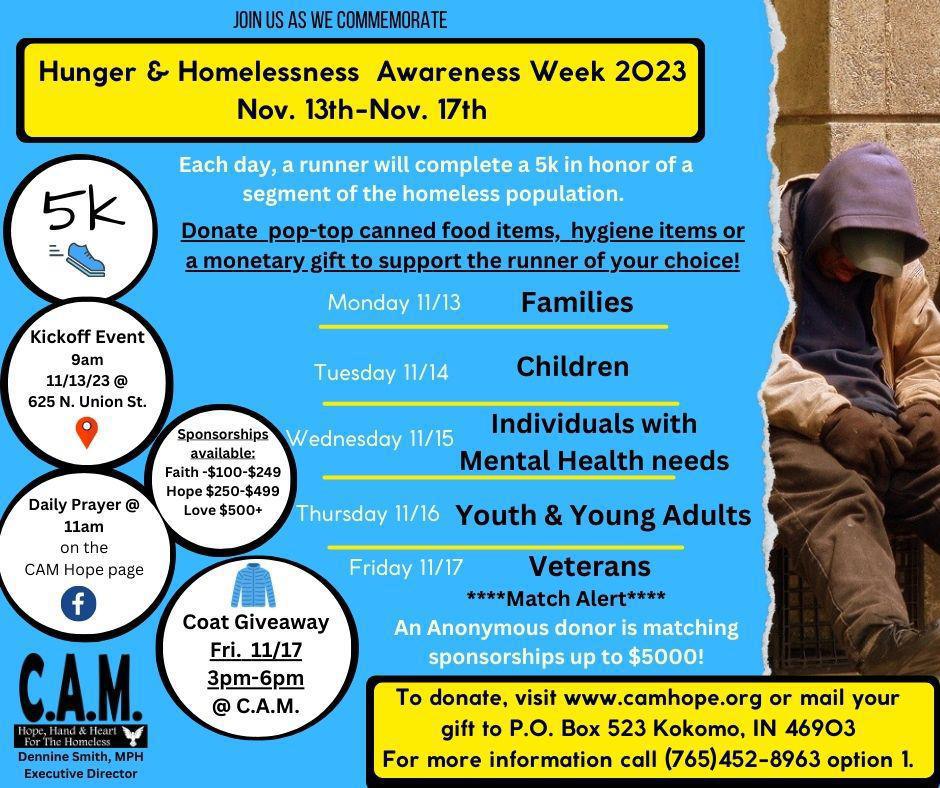 After the opening day ceremony and run, each successive day during the week will feature another 5k runner representing a group experiencing homelessness, beginning with a daily prayer. While each day's run will feature a single runner, CAM encourages others to run their own 5k and post it to social media with the hashtag #camhope to show their support.
"If you're a runner and you feel a connection to the cause, I challenge you to take a picture of you doing your run and post it," said Smith. "A part of what we're trying to do is increase awareness. Let people know that homelessness is a challenge for some folks. We'd absolutely love for other runners to support the cause."
The week culminates with a coat giveaway on Fri., Nov. 17, from 3-6 p.m.
CAM serves Kokomo and Howard County's homeless population with a daytime drop-in center and a wide range of supportive services designed to help individuals cope with and emerge from homelessness. For those seeking to donate, volunteer, or otherwise support CAM and its cause, visit www.camhope.org, mail your donation to Coordinated Assistance Ministries, P.O. Box 523, Kokomo, IN 46903, or visit CAM at 625 N. Union St.